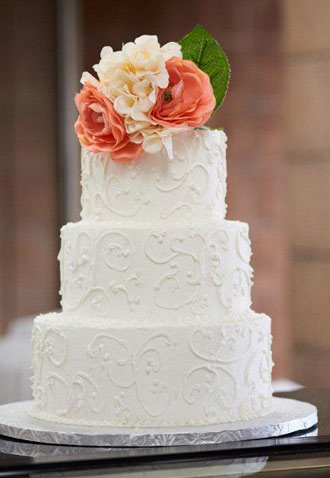 Our mission is to create a defining moment for each of our customers through our custom designed wedding cakes and unparalleled customer service. Each cake is tailor made for each client. From our initial contact, through the design process, to delivery, you are our priority, receiving our full, personal attention, and our dedication to every detail.
FLAVORS
Popular wedding cake flavors include Bridal White, European Dark Chocolate, Red Velvet, Marble, Carrot and our signature Italian Cream. Please contact us for additional varieties and fillings to create your own personalized wedding cake. PHONE: 203.562.4083
DESIGN
We work individually with each bride and groom to create a custom wedding cake that is personalized and special. All of our cakes are made to order with only the freshest ingredients. Feel free to bring in your own drawings and photos to discuss at the time of your appointment. Our Wedding Cake Gallery shows some examples of our work.
FLOWERS
Fresh flowers can add a beautiful, vibrant quality to your wedding cake. We have years of experience in arranging flowers  and are happy to help you select the perfect ones for your design.
PRICING
As each of our cakes is designed individually, they are priced individually. Pricing is based on the combination of cake flavor, fillings, design detail and delivery fee.